Price list for our sailing holidays in Mauritius
In the table below, you can find the prices of our holiday per person in Euro (EUR). If you have any questions about our prices, what's include, our terms and conditions or anything else, be sure to call our friendly office team on 082 771 0719 or contact us through Facebook or e-mail
10% early booking discount for holidays in October and November
Holiday

starting date

7 nights

excluding flights

9 nights

excluding flights

10 nights

excluding flights

14 nights

excluding flights

Single room

supplement

Flight price

Indication (EUR)

1160
1490
1640
2265
41
1160
1490
1640
2265
41
1160
1490
1640
2265
41
1160
1490
1640
2265
41
1160
1490
1640
2265
41
1160
1490
1640
2265
41
1160
1490
1640
2265
41
1160
1490
1640
2265
41
1160
1490
1640
2265
41
1160
1490
1640
2265
41
1160
1490
1640
2265
41
1160
1490
1640
2265
41
1160
1490
1640
2265
41
1160
1490
1640
2265
41
1160
1490
1640
2265
41
1160
1490
1640
2265
41
1160
1490
1640
2265
41
1160
1490
1640
2265
41
1160
1490
1640
2265
41
1160
1490
1640
2265
41
1160
1490
1640
2265
41
1160
1490
1640
2265
41
1160
1490
1640
2265
41
1160
1490
1640
2265
41
1160
1490
1640
2270
41
1160
1490
1640
2270
41
1160
1490
1640
2275
41
1160
1490
1640
2275
41
1160
1490
1640
2280
41
1160
1495
1645
2280
41
1160
1495
1645
2285
41
1160
1500
1650
2285
41
1165
1500
1650
2290
41
1165
1505
1655
2290
41
1170
1505
1655
2295
41
1170
1510
1660
2295
41
1175
1510
1660
2300
41
1175
1515
1665
2300
52
1175
1515
1665
2300
52
1175
1515
1665
2300
52
1175
1515
1665
2300
52
1175
1515
1665
2300
52
1175
1515
1665
2300
52
1175
1515
1665
2300
52
1175
1515
1665
2300
52
1175
1515
1665
2300
52
1175
1515
1665
2300
52
1175
1515
1665
2300
52
1175
1515
1665
2300
52
1175
1515
1665
2300
52
1175
1515
1665
2300
52
1175
1515
1665
2300
52
1175
1515
1665
2300
52
1175
1515
1665
2300
52
1175
1515
1665
2300
52
1175
1515
1665
2315
52
1175
1515
1665
2330
52
1175
1515
1665
2340
52
1175
1515
1665
2355
52
1175
1515
1675
2370
52
1175
1530
1690
2380
52
1175
1540
1705
2395
52
1190
1555
1720
2410
52
1205
1570
1730
2420
52
1215
1580
1745
2435
52
1230
1595
1760
2450
52
1245
1610
1770
2465
52
1255
1620
1785
2475
52
1270
1635
1800
2490
52
1270
1635
1800
2490
52
1270
1635
1800
2490
52
1270
1635
1800
2490
52
1270
1635
1800
2490
52
1270
1635
1800
2490
52
1270
1635
1800
2490
52
1270
1635
1800
2490
52
1270
1635
1800
2490
52
1270
1635
1800
2490
52
1270
1635
1800
2490
52
1270
1635
1800
2490
52
1270
1635
1800
2490
52
1270
1635
1800
2490
52
1270
1635
1800
2490
52
1270
1635
1800
2490
52
1270
1635
1800
2490
52
1270
1635
1800
2490
52
1270
1635
1800
2490
52
1270
1635
1800
2490
52
1270
1635
1800
2490
52
1270
1635
1800
2490
52
1270
1635
1800
2490
52
1270
1635
1800
2490
52
1270
1635
1800
2490
52
1270
1635
1800
2490
52
1270
1635
1800
2490
52
1270
1635
1800
2490
52
1270
1635
1800
2490
52
1270
1635
1800
2490
52
1270
1635
1800
2490
52
1270
1635
1800
2490
52
1270
1635
1800
2490
52
1270
1635
1800
2490
52
1270
1635
1800
2490
52
1270
1635
1800
2490
52
1270
1635
1800
2490
52
1270
1635
1800
2490
52
1270
1635
1800
2490
52
1270
1635
1800
2550
52
1270
1635
1800
2610
52
1270
1635
1800
2670
52
1270
1635
1800
2735
52
1270
1635
1860
2795
52
1270
1695
1920
2855
52
1270
1755
1980
2915
52
1330
1820
2040
2975
52
1390
1880
2100
3035
52
1455
1940
2165
3100
52
1515
2000
2225
3160
52
1575
2060
2285
3220
52
1635
2120
2345
3280
52
1695
2180
2405
3340
87
1695
2180
2405
3340
87
1695
2180
2405
3340
87
1695
2180
2405
3340
87
1695
2180
2405
3340
87
1695
2180
2405
3340
87
1695
2180
2405
3280
87
1695
2180
2405
3220
87
1695
2180
2405
3160
87
Holiday

starting date

7 nights

excluding flights

9 nights

excluding flights

10 nights

excluding flights

14 nights

excluding flights

Single room

supplement

Flight price

Indication (EUR)

1695
2180
2405
3100
87
1695
2180
2345
3035
87
1695
2120
2285
2975
87
1695
2060
2225
2915
87
1635
2000
2165
2855
87
1575
1940
2100
2795
87
1515
1880
2040
2735
87
1455
1820
1980
2670
87
1390
1755
1920
2610
87
1330
1695
1860
2550
87
1270
1635
1800
2490
52
1270
1635
1800
2490
52
1270
1635
1800
2490
52
1270
1635
1800
2490
52
1270
1635
1800
2490
52
1270
1635
1800
2490
52
1270
1635
1800
2490
52
1270
1635
1800
2490
52
1270
1635
1800
2490
52
1270
1635
1800
2490
52
1270
1635
1800
2490
52
1270
1635
1800
2490
52
1270
1635
1800
2490
52
1270
1635
1800
2490
52
1270
1635
1800
2490
52
1270
1635
1800
2490
52
1270
1635
1800
2490
52
1270
1635
1800
2490
52
1270
1635
1800
2490
52
1270
1635
1800
2490
52
1270
1635
1800
2490
52
1270
1635
1800
2490
52
1270
1635
1800
2490
52
1270
1635
1800
2490
52
1270
1635
1800
2490
52
1270
1635
1800
2490
52
1270
1635
1800
2490
52
1270
1635
1800
2490
52
1270
1635
1800
2490
52
1270
1635
1800
2490
52
1270
1635
1800
2490
52
1270
1635
1800
2490
52
1270
1635
1800
2490
52
1270
1635
1800
2490
52
1270
1635
1800
2490
52
1270
1635
1800
2490
52
1270
1635
1800
2490
52
1270
1635
1800
2490
52
1270
1635
1800
2490
52
1270
1635
1800
2490
52
1270
1635
1800
2490
52
1270
1635
1800
2490
52
1270
1635
1800
2490
52
1270
1635
1800
2490
52
1270
1635
1800
2490
52
1270
1635
1800
2490
52
1270
1635
1800
2490
52
1270
1635
1800
2490
52
1270
1635
1800
2490
52
1270
1635
1800
2490
52
1270
1635
1800
2490
52
1270
1635
1800
2490
52
1270
1635
1800
2490
52
1270
1635
1800
2490
52
1270
1635
1800
2490
52
1270
1635
1800
2490
52
1270
1635
1800
2490
52
1270
1635
1800
2490
52
1270
1635
1800
2490
52
1270
1635
1800
2490
52
1270
1635
1800
2490
52
1270
1635
1800
2490
52
1270
1635
1800
2490
52
1270
1635
1800
2490
52
1270
1635
1800
2490
52
1270
1635
1800
2490
52
1270
1635
1800
2490
52
1270
1635
1800
2490
52
1270
1635
1800
2490
52
1270
1635
1800
2490
52
1270
1635
1800
2490
52
1270
1635
1800
2490
52
1270
1635
1800
2490
52
1270
1635
1800
2490
52
1270
1635
1800
2490
52
1270
1635
1800
2490
52
1270
1635
1800
2490
52
1270
1635
1800
2490
52
1270
1635
1800
2490
52
1270
1635
1800
2490
52
1270
1635
1800
2490
52
1270
1635
1800
2490
52
1270
1635
1800
2490
52
1270
1635
1800
2475
52
1270
1635
1800
2465
52
1270
1635
1800
2450
52
1270
1635
1800
2440
52
1270
1635
1785
2425
52
1270
1620
1775
2415
52
1270
1610
1760
2400
52
1260
1595
1745
2385
52
1245
1585
1735
2375
52
1230
1570
1720
2360
52
1220
1560
1710
2350
52
1205
1545
1695
2335
52
1195
1535
1685
2325
52
1180
1520
1670
2310
41
1180
1520
1670
2310
41
1180
1520
1670
2310
41
1180
1520
1670
2310
41
1180
1520
1670
2310
41
1180
1520
1670
2310
41
1180
1520
1670
2310
41
1180
1520
1670
2310
41
1180
1520
1670
2310
41
1180
1520
1670
2310
41
1180
1520
1670
2310
41
1180
1520
1670
2310
41
1180
1520
1670
2310
41
1180
1520
1670
2310
41
1180
1520
1670
2310
41
1180
1520
1670
2310
41
1180
1520
1670
2310
41
1180
1520
1670
2310
41
1180
1520
1670
2310
41
1180
1520
1670
2310
41
1180
1520
1670
2310
41
1180
1520
1670
2310
41
1180
1520
1670
2310
41
1180
1520
1670
2310
41
1180
1520
1670
2310
41
1180
1520
1670
2310
41
1180
1520
1670
2310
41
1180
1520
1670
2310
41
1180
1520
1670
2310
41
1180
1520
1670
2310
41
1180
1520
1670
2310
41
1180
1520
1670
2310
41
1180
1520
1670
2310
41
1180
1520
1670
2305
41
1180
1520
1670
2300
41
1180
1520
1670
2290
41
1180
1520
1670
2285
41
1180
1520
1665
2280
41
1180
1515
1660
2270
41
1180
1505
1650
2265
41
1175
1500
1645
2260
41
1170
1495
1640
2255
41
1160
1490
1630
2245
41
1155
1480
1625
2240
41
1150
1475
1620
2235
41
1140
1470
1615
2225
41
1135
1460
1605
2220
41
1135
1460
1605
2220
41
1135
1460
1605
2220
41
1135
1460
1605
2220
41
1135
1460
1605
2220
41
1135
1460
1605
2220
41
1135
1460
1605
2220
41
1135
1460
1605
2220
41
1135
1460
1605
2220
41
1135
1460
1605
2220
41
1135
1460
1605
2220
41
1135
1460
1605
2220
41
1135
1460
1605
2220
41
1135
1460
1605
2220
41
1135
1460
1605
2220
41
1135
1460
1605
2220
41
1135
1460
1605
2220
41
1135
1460
1605
2220
41
1135
1460
1605
2220
41
1135
1460
1605
2220
41
1135
1460
1605
2220
41
1135
1460
1605
2220
41
1135
1460
1605
2220
41
1135
1460
1605
2220
41
1135
1460
1605
2220
41
1135
1460
1605
2220
41
1135
1460
1605
2220
41
1135
1460
1605
2220
41
1135
1460
1605
2220
41
1135
1460
1605
2220
41
1135
1460
1605
2220
41
1135
1460
1605
2220
41
1135
1460
1605
2220
41
1135
1460
1605
2220
41
1135
1460
1605
2220
41
1135
1460
1605
2220
41
1135
1460
1605
2220
41
1135
1460
1605
2220
41
1135
1460
1605
2220
41
1135
1460
1605
2220
41
1135
1460
1605
2220
41
1135
1460
1605
2220
41
1135
1460
1605
2220
41
1135
1460
1605
2220
41
1135
1460
1605
2220
41
1135
1460
1605
2220
41
1135
1460
1605
2220
41
1135
1460
1605
2220
41
1135
1460
1605
2220
41
1135
1460
1605
2220
41
1135
1460
1605
2220
41
1135
1460
1605
2220
41
1135
1460
1605
2220
41
1135
1460
1605
2220
41
1135
1460
1605
2220
41
1135
1460
1605
2220
41
1135
1460
1605
2220
41
1135
1460
1605
2220
41
1135
1460
1605
2220
41
1135
1460
1605
2220
41
1135
1460
1605
2220
41
1135
1460
1605
2220
41
1135
1460
1605
2220
41
1135
1460
1605
2220
41
1135
1460
1605
2220
41
1135
1460
1605
2220
41
1135
1460
1605
2220
41
1135
1460
1605
2220
41
1135
1460
1605
2220
41
1135
1460
1605
2220
41
1135
1460
1605
2220
41
1135
1460
1605
2220
41
1135
1460
1605
2220
41
1135
1460
1605
2220
41
1135
1460
1605
2220
41
1135
1460
1605
2220
41
1135
1460
1605
2220
41
1135
1460
1605
2220
41
1135
1460
1605
2220
41
1135
1460
1605
2225
41
1135
1460
1605
2235
41
1135
1460
1605
2240
41
1135
1460
1605
2245
41
1135
1460
1615
2255
41
1135
1470
1620
2260
41
1135
1475
1625
2265
41
1140
1480
1630
2270
41
1150
1490
1640
2280
41
1155
1495
1645
2285
41
1160
1500
1650
2290
41
1170
1505
1660
2300
41
1175
1515
1665
2305
41
1180
1520
1670
2310
41
1180
1520
1670
2310
41
1180
1520
1670
2310
41
1180
1520
1670
2310
41
1180
1520
1670
2310
41
1180
1520
1670
2310
41
1180
1520
1670
2310
41
1180
1520
1670
2310
41
1180
1520
1670
2310
41
1180
1520
1670
2310
41
1180
1520
1670
2310
41
1180
1520
1670
2310
41
1180
1520
1670
2310
41
1180
1520
1670
2310
41
1180
1520
1670
2310
41
1180
1520
1670
2310
41
1180
1520
1670
2310
41
1180
1520
1670
2310
41
1180
1520
1670
2310
41
1180
1520
1670
2310
41
1180
1520
1670
2310
41
1180
1520
1670
2310
41
1180
1520
1670
2310
41
1180
1520
1670
2310
41
1180
1520
1670
2310
41
1180
1520
1670
2310
41
1180
1520
1670
2310
41
1180
1520
1670
2310
41
1180
1520
1670
2310
41
1180
1520
1670
2310
41
1180
1520
1670
2310
52
1180
1520
1670
2310
52
1180
1520
1670
2325
52
1180
1520
1670
2335
52
1180
1520
1670
2350
52
1180
1520
1670
2360
52
1180
1520
1685
2375
52
1180
1535
1695
2385
52
1180
1545
1710
2400
52
1195
1560
1720
2415
52
1205
1570
1735
2425
52
1220
1585
1745
2440
52
1230
1595
1760
2450
52
1245
1610
1775
2465
52
1260
1620
1785
2475
52
1270
1635
1800
2490
52
1270
1635
1800
2490
52
1270
1635
1800
2490
52
1270
1635
1800
2490
52
1270
1635
1800
2490
52
1270
1635
1800
2490
52
1270
1635
1800
2490
52
1270
1635
1800
2490
52
1270
1635
1800
2490
52
1270
1635
1800
2490
52
1270
1635
1800
2490
52
1270
1635
1800
2490
52
1270
1635
1800
2490
52
1270
1635
1800
2490
52
1270
1635
1800
2490
52
1270
1635
1800
2490
52
All prices are per person in Euro (EUR) based on two people sharing a standard hotel room and include the resort transfers, half board (breakfast & buffet dinner) and our unique sailing & adventures package. Single supplements shown are per person per night.
Payments and Booking Conditions
A deposit of €350 per person is required (for children between 3 and 12 years old the deposit is €200). The remainder is due 9 weeks before you travel, which means that if you book within nine weeks of travel, the full balance will be due on booking. The deposit is required for all holidays, including and excluding fights.
Please don't forget to read the fine print of our booking conditions!
Room choices and upgrades supplements
Each and every room in hotel Coral Azur is very comfortable and has absolutely stunning views from the floor-to-ceiling windows or from the independent balconies.
But if you would like that little bit extra then you can upgrade your room & the following supplements apply. Prices are per person per night.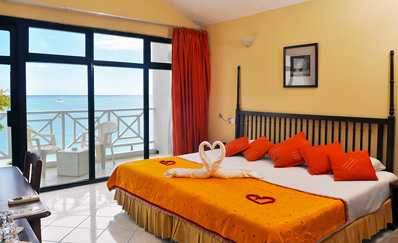 | | |
| --- | --- |
| Standard room | €0/night |
| Standard room with Sea view | €19/night |
| Deluxe garden room | €27/night |
| Deluxe Beach front with Sea view | €32/night |
Solo Travellers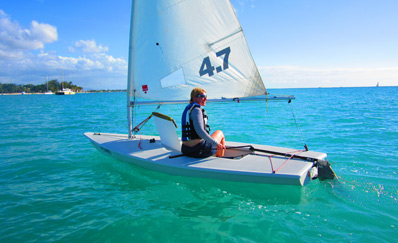 We know this is not what you want to hear, but our price lists are based on two people sharing a room. If you prefer to have a room for yourself, we have to charge a supplement per person per night, and we also need to double the room upgrade prices if applicable. Single Room Supplement charges as follows: 1 February to 15 April €55, 16 April to 30 September €45 and 1 October to 30 November €50.
We serve breakfast and dinner
Our prices are based on ½ board, with breakfast and a buffet dinner that varies in style every night to reflect the different cultures of Mauritius – and the tastes of the Italian Director of the hotel. Should you not want to take dinner in the hotel there is a breakfast only option that will reduce your price per adult by €15 per night, and €7.50 per child.
Children's discount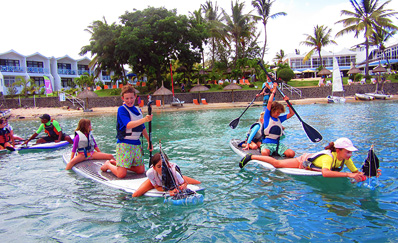 Children are very welcome on our holidays and those under 12 are usually eligible for a special discount.
If one child (under 12 years) shares a room with two adults, they will receive a discount of 25% on the full programme price (based on the price list excluding flights) . If there are two children sharing with one adult they will receive a discount of 20%. If one child shares a room with one adult, the child will receive a discount of 15%. Two or three children sharing a room together without any adults will receive a 20% discount on the full programme price.
One child in a room of his or her own will be classed as an adult and not receive a discount; the single room supplement will also be applicable. If your child under 7 is too young to participate in any of our programmes, please call us for our special discounts.
Damage and Loss Waiver
A damage and loss waiver charge of €25 is applied for all participants of our Wildwind sailing programmes. This covers any accidental damage you may do to our sailing boats and equipment and it means you will not be charged locally for any such damage.